Winners - October 2012
Joint winners were Dr Janelle Pakan (University College Cork) and Dr Abigail Tucker (King's College London) - images below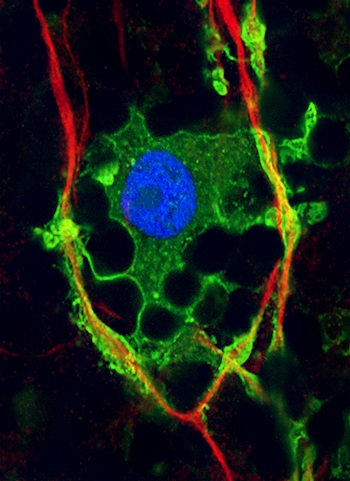 Title: Oligodendrocyte
Description: An oligodendrocyte (blue) extends to form myelin sheaths (green) to encase Purkinje cell axons (red) in the developing rat cerebellum. The image shows a projected confocal z-stack from a 250µm cerebellar slice where cellular elements were visualized using immunohistochemistry. Olig2 (an oligodendrocyte specific transcription factor) demarcates the oligodendrocyte nucleus shown in blue, myelin basic protein expression in the oligodendrocyte is shown in green, and neurofilaments within Purkinje cell axons are shown in red.
Submitted by: Dr Janelle Pakan, Post-Doctoral Fellow, UCC, Dept of Anatomy and Neuroscience, Dr. Kieran McDermott Laboratory, Ireland.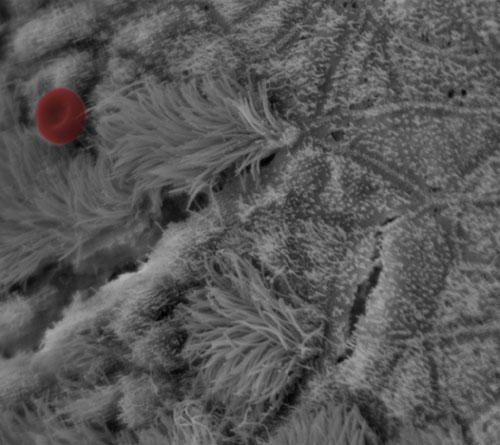 Title: Middle Ear Mucosa
Description: SEM of a mouse middle ear mucosa. The mucosa is covered in a lawn of ciliated cells that help to clear the middle ear cavity. Red blood cells pseudocoloured in red.
Submitted by: Dr Abigail Tucker, Reader in Craniofacial Development and Orthodontics, King's College, London.