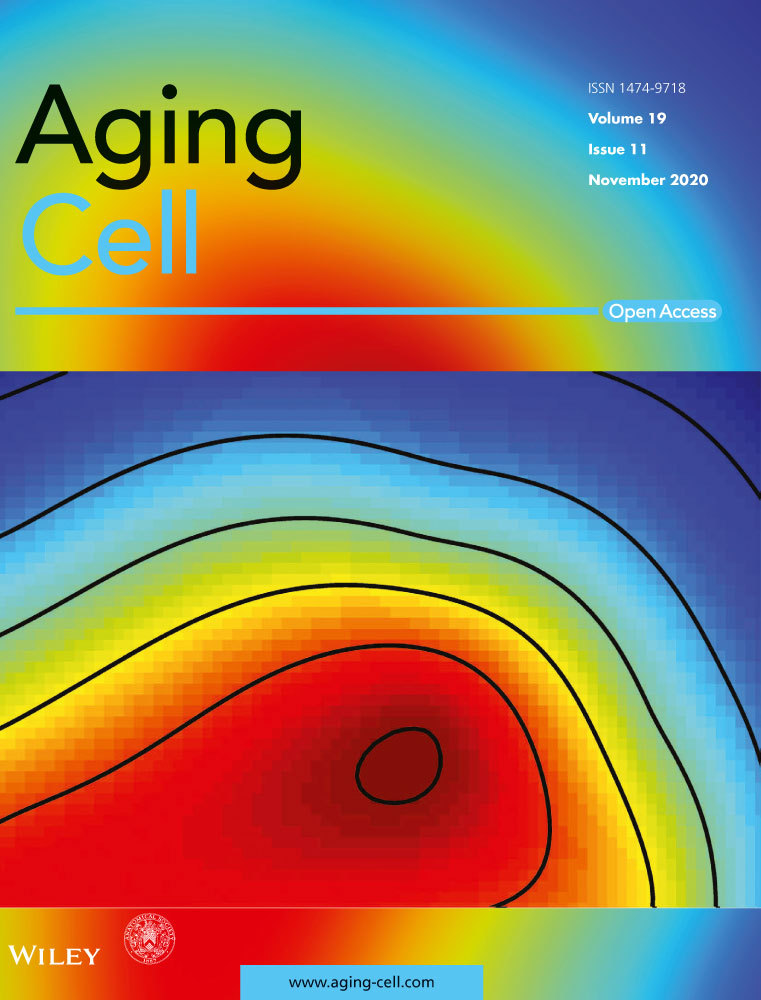 Aging Cell
Aging Cell is a bi-monthly peer-reviewed, open access journal that aims to publish the highest quality, innovative research addressing fundamental issues in the biology of aging. You can sign up to obtain "content alerts" on the journal homepage - more information here
See below for information on:
Best Article Award 2019
Anatomical Society Studentships
Editorial Board
Scope and Information for Authors
Best Article Award 2019

Winner
Partial reprogramming induces a steady decline in epigenetic age before loss of somatic identity (Olova et al. 2019)
Runner-Up
Endothelial toll-like receptor 4 maintains lung integrity via epigenetic suppression of p16INK4a (Kim et al. 2019)
Restored immune cell functions upon clearance of senescence in the irradiated splenic environment (Palacio et al. 2019)
A human tissue-specific transcriptomic analysis reveals a complex relationship between aging, cancer, and cellular senescence (Chatsirisupachai et al. 2019)
Anatomical Society Studentships
The Anatomical Society is delighted to announce the award of four new research studentships. These awards are the outcome of the Society's annual studentship competition open to its members.

Studentships will start in October 2021 and each award funds 3 years of postgraduate training and study towards a PhD.

Studentships provide funding for research focused on specific projects associated with anatomical science. For details of these funded projects, please click here.
Editorial Board
Editors-in-chief:
Professor Peter Adams, Sanford Burnham Medical Discovery Institute, CA, USA
Dr Adam Antebi, Max Planck Institute for Biology of Ageing, Cologne, Germany
Dr Ana Maria Cuervo, Albert Einstein College of Medicine, NY, USA
Prof Brian Kennedy, Director, Centre for Healthy Ageing, National University Health System;
Professor at the National University Singapore and Buck Institute for Research on Aging, Novato, CA, USA
Reviews Editor:
Dr John Sedivy, Brown University, Department of Molecular Biology, Cell Biology and Biochemistry, RI, USA
Scope of Journal & Info for Authors
Impact factor:7.238
2019 Journal Citation Reports (Clarivate Analytics): 34/195 (Cell Biology)3/51 (Geriatrics & Gerontology)
Aging Cell publishes novel and exciting science which addresses fundamental issues in the biology of aging. All areas of aging biology are welcome in the journal and the experimental approaches used can be wide-ranging. With the rapid developments in genomic sequencing and analysis, and availability of new technologies to analyse functional genomics and proteomics, the combined powers of genetics, biochemistry and cell biology are leading to the very rapid production of new information. Aging Cell welcomes the results of these programmes.
Aging Cell covers:
Genes and functional genomics

Cell proliferation, senescence and death

Signaling and gene expression

Stem cells and aging

Cell stress and damage

Integrative physiology

Biodemography and comparative studies

New theories of aging and longevity