Are you interested in a career in Anatomy?
Here is a collection of career profiles from a number of people who have jobs related to Anatomy.
They have trained in a wide range of fields including Medicine, Archaeology and Forensic Science.
Some individuals work for academic institutions, some for the Police and some for privately owned companies.
Have a look and see whether there is an Anatomy career path that interests you.

Dr Katherine Linehan
Senior Lecturer in Human Anatomy, The University of Sheffield.
When I was a teenager I saw an article in the newspaper about how a murder case had been solved using facial reconstruction. On the page before me was a clay model of a person's head constructed solely from the information the Archaeologist had gleaned from the individual's skull. I was fascinated! Inspired by this I applied for a place at Sheffield University to read Human Anatomy and revelled in learning all about the Human Body through cadaveric dissection. Upon graduating I was unsure what to do and by chance more than anything I ended up reading for a PhD in Cardiology at Hull University. To earn my keep I was employed as a Graduate Teaching Assistant and here my interest in pedagogy began. After a short stint as a Postdoctoral Researcher in Ophthalmology in Liverpool I decided that my real interest lay in teaching. I left the world of Higher Education to teach Science in Secondary schools. My focus during this time was designing Science lessons that were engaging and could be accessed by all.
In 2003, the opportunity arose for me to return to The University of Sheffield. This time as a Lecturer teaching Human Anatomy in the same dissection lab I had learn my craft. What I brought with me was the desire to apply all I had learnt in schools about making learning accessible and inclusive. The challenge this time was that I had 240 students in a class rather than 30!
Fourteen years on I am a Senior Lecturer and head up the Anatomy team in the Department of Biomedical Science, here in Sheffield. I really did end up back where I began, as along with Human Anatomy I have also developed a Forensic Science course that teaches students how to reconstruct an individual's face from just their skull!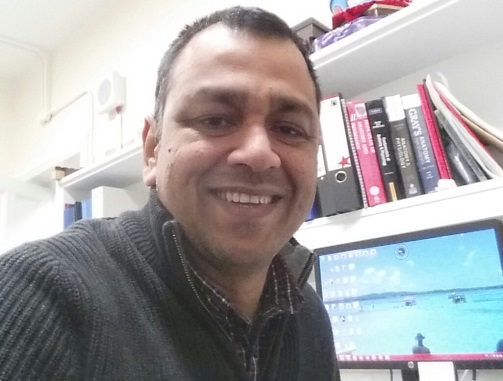 Bob Dalchan
Senior Anatomy Technician, Royal College of Surgeons in Ireland
Having moved from Trinidad in the West Indies to live in London in 1987, whilst working a part-time job, I attended Putney College as a mature student studying science (Chemistry, Biology and Physics at Higher National Certificate level). I went on to complete an honours degree in Biochemistry at the University of Greenwich. By the time I graduated I had met and married my Irish wife and we returned to Ireland to raise our growing family.
In 1999, I took up a position as a laboratory assistant based at the National Maternity Hospital, Holles Street, supporting Professor Mary Leader, Professor of Pathology, of Royal College of Surgeons in Ireland based in the Serology laboratory. This post involved screening antenatal bloods, managing referrals and results, querying foetal abnormalities and post mortems. I continued my studies and completed a research project on the use of protein-creatinine ratio in urinalysis in the early detection of pre-eclampsia as part of my MSc degree in Biomedical Science which I obtained in 2007.
Having worked in National Maternity Hospital for a significant time, I availed of the opportunity to take up the post of Trainee Anatomy Technician at the Royal College of Surgeons medical school at St. Stephen's Green in Dublin in 2010. Over the several years since then, I have embarked on a steep learning curve, gaining experience in cadaver treatments, dissection and laboratory management. I was promoted to Anatomy Technician in 2012 and since to Senior Anatomy Technician July 2015. I now help to oversee the body donation programme, perform dissections for the purpose of teaching undergraduate medical students, am responsible for prosection of specimens for RCSI Pathology museum collection, facilitate the various surgical workshops and manage the day to day running of the anatomy room.
Under the mentorship of Professor Clive Lee, Head of the Department of Anatomy and Dr Tom Farrell and with the support Mr Peter Kellaghan, I was fortunate to complete my Certificate in Medical Science in 2012 and start the Anatomical Training Programme run by the Anatomical Society of Britain and Ireland in 2015. This course is challenging and has given me the opportunity to study in Oxford University and also meet other people studying Anatomy from all over the world.
I am lucky to be in a position to say that I thoroughly enjoy my job, from the interaction with students and families of donors to the learning and research potential in the field of Anatomy, there's always something new around the corner.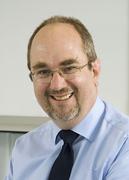 Professor Stephen McHanwell
Professor of Anatomical Sciences and Director of the FMS Unit for Pedagogic Research, Development and Practice in Newcastle University.
I knew almost from the point at which I started a degree in Physiology in Newcastle that I was interested in an academic career. Consequently it was a natural progression to move on to a PhD which I undertook in the Physiology Department in Bristol working on motor neurone anatomy and development. From there I moved to a postdoctoral position in University College then an MRC French Exchange Fellowship in the laboratory of Nicole LeDouarin in Nogent-sur-Marne. I returned to a lectureship in anatomy in Newcastle where I continued working on neural crest as well as projects on the control of motor neurone survival in neonatal and mutant mice. However, after some ten years in post I began to realise that I had particular strengths in teaching and taking on roles in managing degree programmes at undergraduate and postgraduate level as well as other administrative responsibilities in teaching provided a platform for promotion to senior lecturer. I had been involved in Anatomical Society throughout this period including serving as Honorary Education Officer for nine years. This external work along with involvement in anatomical pedagogy at European level plus continuing work in teaching and teaching administration within Newcastle led to the award of a National Teaching Fellowship of the HEA in 2007 and promotion to a Personal Chair in the same year. The National Teaching Fellowship has led to a number of collaborations but most significantly to a major HEA-funded project which was a collaboration with colleagues in Leicester, Woollongong and Tasmania on Reward and Recognition of Teaching in Promotion Processes. Along with this interest in reward and recognition, staff transition and academic identities I have worked collaboratively on aspects of anatomy pedagogy, syllabus design and curriculum theory with colleagues in Cardiff, Southampton, Durham, Madrid, Paris and the USA. I also have an ongoing collaboration with colleagues in Madrid on larynx biology. In my current role, which I have only just started, I have been given the task of developing practice networks and pedagogic research within my own Faculty something leading directly out of my interests in reward and progression for teaching-focussed staff in universities. Though some of this journey was planned much of what I have done has come from the serendipitous contacts made through different practice networks in anatomy through AS, the Association of National Teaching Fellows and working with colleagues in Education in Newcastle.
Establishing links and collaborations with colleagues inside and outside your own institution is just as important in building a career in teaching as it is in research.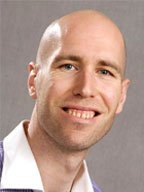 Dr Scott Border
Senior Teaching Fellow in Anatomy, University of Southampton.
I studied Biology and Psychology at degree level at Oxford Brookes University and initially focussed my interests towards studying Animal Behaviour. Having undertaken an honours project studying the effects of environmental enrichment and learning on the cortical thickness of rat brains I undertook a PhD in the same institution investigating the potential role of macromolecules in mechanisms of learning and memory. It was during the time spent conducting my PhD where I first gained teaching experience. I became a demonstrator for Human Physiology practical sessions and undertook the marking of laboratory reports.
My first experience of lecturing was to nurses who were specialising in in mental health and learning disability. After completing my PhD I became a permanent member of staff as a Lecturer in Physiology for the then newly established Paramedic Degree programme. After two years of contributing to the teaching, coordination and management of the programme I took up a position as Teaching Fellow in Anatomy at the University of Southampton and after a number of years was subsequently promoted to Senior Fellow. I am now responsible for teaching gross anatomy to medical undergraduates. I am the subject lead for Head, Neck and Neuroanatomy and the module leader for the Foundations of Medicine module. My research interests are focused upon the study of cranial morphometrics in relation to surgical approaches and forensic application. In the field of Medical Education I have been working with senior medical students and junior doctors to explore the dynamics of near-peer teaching in Anatomy Education.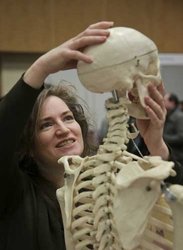 Dr Jane Holland
Lecturer in Anatomy, Royal College of Surgeons in Ireland
Over the years, I have completed a number of degrees and courses in medicine, science and education. I initially qualified as a graduate in Medicine from Trinity College, Dublin University. After internships in Limerick Regional and St. James' Hospitals, I took a post as a Demonstrator in Anatomy in Trinity College, Dublin. During this year, I obtained my MSc. by thesis, and completed the first part of my surgical postgraduate examinations. Following this, I embarked upon my initial surgical career and was employed as a Surgical SHO in the Cork Federated Hospitals and subsequently joined the Dublin Surgical Training Scheme for a further 2 years, becoming an Associate Fellow (and eventually Member) of RCSI in 2001. I then became a Research Fellow in Trinity College, working with Prof JV Reynolds in St James' Hospital; my MD thesis investigated the role of the systemic and splanchnic immune systems in the development of multiple organ dysfunction syndrome. I spent the next two years once again working as a Surgeon in St James' and Wexford General Hospitals.
At this stage, I changed career, and returned to Anatomy teaching, initially as a Demonstrator in Trinity College, Dublin and then in 2005 was appointed Lecturer in Anatomy in RCSI. Within 2 years, I was teaching on a wide variety of courses (Medicine, Physiotherapy, Pharmacy, Surgical training), and had the responsibility for administering some of these myself, primarily within the undergraduate medical programme. I also enrolled for a PhD which was eventually completed & conferred in 2012.
Since completing my PhD, I have now had more time to devote to planning and executing research into aspects of Medical Education, primarily with regard to assessment. I completed a Postgraduate Diploma in Health Professions Education, and now teach a number of sessions on this same course here within RCSI. My current teaching roles are varied, and include undergraduate (Medicine, Physiotherapy, Pharmacy, Physician Associates), post-graduate (Surgical training, MRCS,Ophthalmology, Bioengineering, Physiotherapy, Pg Diploma in Education) and assorted others (DFB Paramedics etc.), and I continue to run and administer a number of modules and courses. These undergraduate medical programmes are now run in three campuses worldwide (Dublin, Bahrain, Perdana, Penang), conferring the same RCSI degree. I am also a member of the Education Committee of the Anatomical Society, primarily contributing in my role as an Assessor for their Anatomy Training Programme.